The crest of Villanova University is an adaptation of the seal of the Order of St. Augustine. Its design reflects the Catholic heritage of Villanova University, founded by the Friars of Saint Augustine, and dedicated to St. Thomas of Villanova, under the patronage of Our Mother of Good Counsel. The crest displays five elements with historical significance.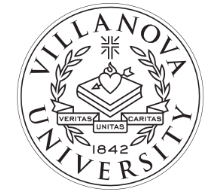 The motto of the University, "Veritas, Unitas, Caritas" or truth, unity, and love are the special virtues to which the University aspires and seeks to inculcate through every endeavor.
The book is symbolic of Augustine's dedication to learning, and the Book of Scriptures through which Augustine began his conversion to Christianity. In Confessions, written by Augustine, he recounts hearing a voice which instructed him to take up and read, "Tolle lege, tolle lege." At this invitation, he took up the Book, opened to the Epistle of St. Paul to the Romans, Chapter 13, and began his search for self-knowledge through a relationship with Christ.
The flaming heart symbolizes love of both God and neighbor which so characterized the life of Saint Augustine. The cross above the Book is symbolic of Augustine's conversion and commitment to Christianity. The laurel wreath which frames the central elements is symbolic of the victory that can be gained through the pursuit of knowledge in the context of shared community.
The institution was established in 1842. The official school colors are navy blue and white.